Priya Barot
London, United Kingdom
Born 1988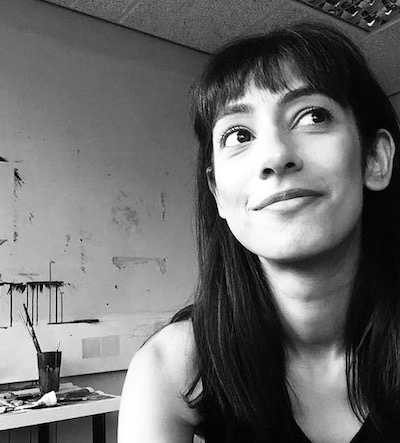 From 13 Nov-2019 To 18 Nov-2019

From 01 Sep-2020 To 07 Sep-2020
I am a self taught, fine artist based in London. Fusing a love of portraiture with abstraction, my work is bold and expressive and my process intuitive.
I often use cardboard pieces to mark make with, creating large dynamic strokes. Contrasting these with finely painted features using a brush create an interplay of chaotic colour with calm and considered detail.
From depicting ancient fables with a moral message to raising awareness about endangered species as a result of human disregard, my work seeks to explore the world through the lense of animals.
Currently my work is integrating themes of climate change and how without significant collective action, we might lose many of the beautiful animals and wildlife that call this earth a home.
I am also part of grassroots, South London based art collective Living Free. With many exhibitions across London under their belt, we are striving to showcase the benefits of art to people from all walks of life.
Every generation produces artist collectives that form away from the mainstream art industry. These collectives do not relate to the way art is presented; they want art to be less barrier-ed and saccharinely ordered. They do not feel art represents them and their aspirations for what they want art to be and do. Priya Barot, a 31-year-old painter with Gujarati heritage, found her artistic place in this world in 2015 through the†Living Free Collective. She describes the†Collective as a set of self-taught, working class, racially and religiously diverse artists, none of whom have an academic background or academic interest in the arts [we are] a community that feels disconnected from the large art institutions. Each artist works on many different art projects, and has had success individually and in collaboration, but always throughout, the Collective offers a support system of people with the same umbrella vision. In this sense it opposes capitalist structures of inevitable competition to create good art. The group set about creating their own opportunities through collaboration with small businesses, entrepreneurial spaces, remote working offices and galleries to create exhibitions that were more events than static boring displays. Barot describes how their exhibitions were nights people looked forward to a safe space for people to connect without the intimidation of a formal art event structure that is still frankly so alien to many. The event-exhibitions nearly always involved pumping music, alcohol and dancing, seamlessly melded with painting, photography, poetry and performance. This coexistence and purity of each artists message, with fun and an unerring belief in creating a more positive world was (and is) tantamount to the Collective. Barot says that perhaps the challenge for the audience is to absorb a broad range of creations and accept them as one.†
†
From the heady mix of house music, youthful anti-establishment, anarchic camaraderie (and with her art studio being a disused police station waiting to be made into yet another block of flats), Barot emerges with naÔve, often humorous portraits of animals. To Barot, an ardent vegan, animals have been used across cultures and throughout history to symbolise and represent human emotions and tendencies. Her works therefore remind us how we are still animals and also how animals are so humanlike, so soul-full.†We resonate with animals because they have personalities and characteristics that we can understand on a very primal level. Yet our love for animals in stories and symbols does not translate into the real world. Human greed has destroyed species upon species and caused immeasurable suffering through unsustainable economic growth, industrial animal agriculture and the climate crisis we have created and propagate.†It is no surprise that Barot listens to enlightening podcasts and videos online whilst she paints. Her simple-looking paintings disguise a switched-on artist much like her youthful appearance hides her age and profundity of purpose.
†
Barot often will draw on proverbs, fables or stories involving animals from Hindu folklore through to the tales of Hans Christian Andersen to inspire her animal paintings.†She is interested in the moral message to be gained from these stories. Aubergine Frog (2018) is inspired by a Buddhist Zen story. A monk, overcome with guilt, loses sleep thinking he had accidentally stepped on a pregnant frog during the dark night. As he goes for his morning walk the next day, he discovers he had in fact stepped on an aubergine. To Barot, this tale perfectly describes how so often we can be wrong in what we believe to be true. How there is never an objective reality. It also is interesting as it refers to an enlightened monk making a mistake that makes him a murderer. The fact that the frog is thought to be pregnant makes him doubly murderous or does it? Squashing an aubergine may be better than a pregnant frog but it is also a waste too as it could be eaten. Will the monk be kept up at night by that? The story thus interestingly compounds questions of social and environmental responsibility, religion, guilt and innocence.†Tiger†(2018) was painted with the lights turned off and under the dim glow of candles. It is a consideration of how painting will continue when we cannot count on the sun or electricity. It also feels a play on the famous poem The Tyger (1794) by William Blake and also Tiger in a Tropical Storm (1891) by Henri Rousseau. Here the tigers tongue sticking out has a strong resemblance to depictions of the Hindu goddess Kali, deity of death. Barot describes this as a provocation: What will you do when there are no more tigers? What will you do when it all goes black? Barots paintings may be bold, colourful paintings of animals but more often than not the message is deadly serious. Nails and cyanide dished up on Instagram-friendly animal plates.†