R.B. Bhaskaran
Chennai, India
Born 1942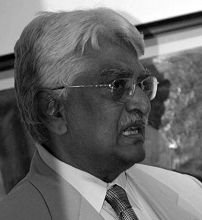 View Video Interview
From 14 Apr-2006 To 10 May-2006

From 01 Dec-2015 To 14 Jan-2016

From 31 Jan-2018 To 03 Feb-2018
Secures a First Class Diploma in Advanced Painting after a six-year course at the Government College of Arts & Crafts, Chennai, in1964; undergoes training in fresco techniques at Banasthali Vidyapeeth, Rajasthan
Selected Solo Exhibitions
To date, more than thirty solo exhibitions in Chennai, Mumbai, Bangalore and Delhi and also abroad in the United Kingdom, Holland, Israel and the Fiji Islands
Selected Group Exhibitions
Chennai Excite, The Noble Sage, London (2006); Birla Academy of Arts and Culture Silver Jubilee Exhibition, Calcutta (1992); Gallery '88, Bangalore (1992); Rotary Club Exhibition, Chennai and Bangalore (1991-2); 'Rimbaud - Indian Artist' Show, Alliance Francaise, Chennai (1991); Max Mueller Bhavan, Hyderabad (1991); Miniature Format Paintings Exhibition, Lalit Kala Akademi, Mumbai (1991); Sound and Picture Archives for Research on Women, Mumbai (1991); Sarala Art Centre, Chennai (1990); Artist Self-Portrait Exhibition, Village Art Gallery, Delhi (1989); Dhoomi Mal Art Centre, New Delhi (1986); Festival of India Printmaking Show, USA (1985); Art Heritage, New Delhi (1982); 3rd Triennale-India, Lalit Kala Akademi, New Delhi (1975); '25 Years of Indian Art' Exhibition, Lalit Kala Akademi, New Delhi (1978)
Selected Awards
Joins the judging jury for the Florence Biennale, Italy (2005); Elected Chairman of the Lalit Kala Akademi, New Delhi (2004); Elected Eminent Artist of Lalit Kala Akademi, New Delhi, and a member of the All India Council of Technical Education (2000-2); Principal of the Government College of Arts & Crafts (1997-2001); Principal of the College of Art, Kumbakonam (1995); Made an Honorary Secretary of the Lalit Kala Akademi Regional Centre, Chennai (1987); Made a Commissioner for the 6th Triennale India (1986); Awarded Fellowship from the Department of Culture, Government of India (1984-6 &1979-81); National Award for Graphics (1982); Joins the jury for the National Exhibition (1981); Made a British Council Scholar allowing him to undertake postgraduate studies in printmaking at Portsmouth Polytechnic in the United Kingdom (1976); UNESCO Scholarship awarded allowing a printmaking and ceramics research and learning trip to Ein Hod in Israel (1968)
Selected Bibliography
Southern Axis - A Selection of Contemporary Art of Southern India, edited by Meena Dadha, Mukti, 2005; R.B. Bhaskaran: A Selection of Works 1965-1992, by M. Krishnana, Exhibition Catalogue
"My paintings will remind you of the elaborate facial makeup done by some African tribes. They are placed in deep shadow with light from a distant source striking one side of the face. They are sensitive and appear rather contemplative."
I was taught that Indian paintings should look Indian. But I battle with ideas, challenging the self which rushes out on to the canvas, to integrate into a sympathetic form.
R.B. Bhaskaran is by far one of the most respected and talented artists to participate in the Madras Art Movement of the 1960s. This distinguished and intellectual artist was among the first in South India to rebel against the concept of Nativism propagated by K.C.S. Panniker, the idea that one must consciously evolve an Indian style by introducing Indian motifs and themes into ones work. For Bhaskaran, this seemed a futile endeavour, one restrictive rather than enhancing for the artist. He believed strongly in ones Indian-ness being an instinctive by-product of ones work. For Bhaskaran, to define what is exactly Indian in his art is to implicate him and his personal understanding of his life. For him, this artistic catalyst within him contextualises each and every mark of his brush as entirely Indian. His rebellious nature can also be seen in his skilful leaping from one subject matter to the next throughout his career and his wanting to revise those genres of Western art history that have impacted on the East so forcefully. One moment, his still-life paintings remark at the 17th century works of Diego Velázquez and their future alter egos the Cubist portrayals of objects by Pablo Picasso and the colour/shape experiments of Paul Cézanne. The next moment, Bhaskaran attends to the tradition of family Portraiture or marital visual representation. Bhaskaran deliberately overlooks this tradition and finds inspiration in the staid, though symbolic, marriage photography displayed in most homes in India. Most well-known is Bhaskarans signature work, the beloved cat series. Starting as a sketch of a wandering cat in his studio, this interest soon developed into an obsession with the creature, the feline animal becoming synonymous with the artist himself as much as the late M.F. Hussain was with his wild horses.
Bhaskarans mixed media masterpiece, Couple (2005), finds roots in his artistic fascination with the stodgy and often uncomfortable-looking marriage portraits that are so prevalent in houses all around India. These photographs to the artist appeared loaded with meanings and dramatic tensions what the couple wants the photographs audience (and/or the photographer) to think of them versus what they think of each other; the new phenomenon of posing for a camera versus the traditional male-female power relationship; photography as a relatively new Western invention versus the Indian miniature portrait that dates back centuries. In these photographs, even the peripheral objects seem to join the symphony of tensions: the wifes abundant jewellery and the ornate chair on which they sit being shows of wealth and posterity. In Couple, Bhaskaran plays with the ambiguity of the visual equation of man and woman. Describing the work, Bhaskaran says how the work transcends caste, religion, background, class and other human categorisations. If I were to make the man a Buddhist all I would have to do is put an orange garment across his body but how much of a Buddhist does that make you putting an orange dress across the body? By adding paraphernalia to man and woman we satisfy our human need to subjectify, assume and classify. You add a cross to the woman and she is a Christian. Suddenly they are a mixed religion relationship. We make further assumptions still. I make her taller and the dynamic between the man and the woman changes again. In Couple it seems implied that the female figure is a Westerner, shown with a voluptuous body and a dress. The male figure however looks like a modern Indian city-type because of his upright manner and tidy shirt and collar. The truth is Bhaskaran has made it hard to discern anything for certain. The painter meanwhile stays silent: People ask me what message I intend to convey through my paintings. I cannot tell them anything I feel that a painters job is merely to paint. He is not a priest to preach.