Dante Elsner
Krakow, Poland
(1920 - 1996)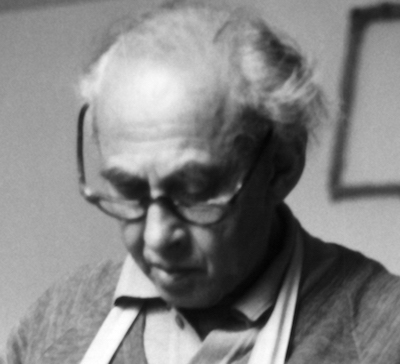 From 11 May-2022 To 17 May-2022
Chronology
1920: Born in Kraków, Poland
1921-1931: Family lives between Kraków and Lvóv (now in Ukraine) 
1932: Elsner sent to Kraków to live with grandmother 
1938: Finishes high school and tries to enter medical school, eventually studying biology
1939: Second World War begins with joint Russian and German invasion of Poland. Elsner flees to his parents on the Russian side of divided Poland
1941: Area comes under German control when Hitler invades Russia in June; location now too dangerous for family 
1942-44: Elsners father, brother and mother are taken to the Nazi Death Camps where they perish. Elsner escapes and lives by foraging in the forest for two years 
1944-8: Elsner enrols in art school in Kraków and enjoys training in traditional fine art skills including printmaking, drawing and painting
1948-1958: Finishes art school and moves to Paris. Here he lives in poverty in an attic room with no heating or running water. He survives on odd jobs - any money he has going to his art. 
Elsner becomes acquainted with the teachings of G.I. Gurdjieff and enters into The Work - an exploration of human existence for the interior evolution of man to deeper states of attention, alertness and vision. 
1956: Elsner holidays in Holland and meets Renée Wistrich 
1958: Elsner marries Renée and they move to London
1959: Elsner and Renée have their first child, Anne
Early 1960s onwards: Family receives financial reparations from German Government for loss suffered during the War allowing Elsner financial independence. A family house is bought in Queens Park. 
Elsner devotes himself full time to his art. He abandons oils for watercolour and ink paintings, executed on Japanese handmade paper. Here, he believes, every brush-stroke is immediately and fully revealed as a reflection of its makers state of mind. Painting becomes a pure reflection of spiritual practice, wholly integrated into his pursuit of the Work. 
Elsner is inspired by diverse spiritualities from India to Japan. In addition to Krishnamurti, he goes to hear Indian teachers like the Pharsi Phiroz Mehta, Guru Dev and the Maha Rishi, as well as Tibetan Buddhists who came to England in the early 60s and 70s. 
A new way of working is founded that owes much to Zen Buddhism. Elsner assimilates aspects of Japanese and Chinese brush-stroke tradition and a method of mounting his pictures that echoes the model of scroll painting
1961: Anne dies suddenly in her sleep while family return from Southern France
1962: Elsner has a second child, their son, Ja
1965: Elsner has third child, Kasia
c.1965-1975: Elsner turns more seriously to pottery, initially working in stoneware and porcelain  
c.1975-1979: Elsner discovers the Japanese ceramic technique of Raku 
1980s onwards: Elsner works steadily, daily, on pots, paintings and drawings 
1990s: Elsner is struck by ill health: kidney failure, high blood pressure and heart attacks 
1997: Elsner dies in London from heart issues and pneumonia
Dante Elsners fascinating story begins in Krakow, Poland, where he was born to a middle class liberal Jewish family. His parents had hoped for a medical career for Dante when the Second World War broke out in 1939 and they had to flee to the Russian side of divided Poland. When Hitler broke his pact with Stalin in 1941, Nazi occupation proved too dangerous for the family. The next year, Elsners father and brother and then his mother were rounded up and taken to the Sobibor and Belzec Death Camps. Elsner miraculously escaped and for two years lived on instinct alone in the forest. Traumatised by what he had been through, and yet indebted to his inner voice that had saved him, Elsner found his way to Krakow to study fine art. When, again, Poland began to be unstable, Elsner left for Paris.
In Paris, the artist lived in extreme poverty in an attic room with no eating or running water. He ate in soup kitchens to survive, taking odd jobs wherever he could and using any money he made to produce art. When he ran out of canvases he would paint on his shirts. Whilst in Paris, on the brink of suicide, it was often his visits to the museums that gave him courage. He was introduced to the teachings of the Armenian mystic, G.I. Gurdjieff, who described a new spiritual route for ones life described as The Work: an exploration of human existence for the evolution of man to deeper states of attention, alertness and vision. This was the framework Elsner had been looking for to make sense of his inner voice.
Having married, Elsner moved to Queens Park in London in 1958 and soon after began to receive reparations from the German government for loss in the war. Now financially independent, Elsner dedicated his life to the artistic spiritual journeying of The Work. Inspired by the diverse spiritualities of South East Asia, Elsner forged a new practice of watercolour and ink brush painting in a scroll format modelled on Japanese and Chinese art. He believed that every brushstroke was immediately a reflection of its makers state of mind and a pure reflection of the spiritual path.