C. Dakshinamoorthy
Chennai, India
(1943 - 2016)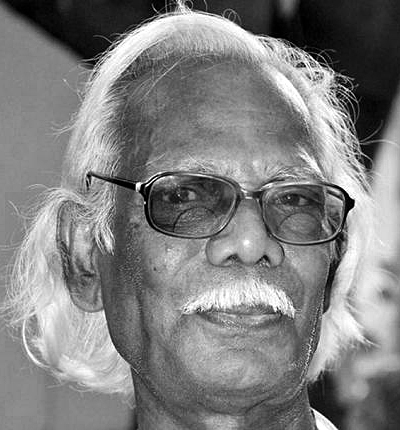 From 10 Nov-2014 To 10 Dec-2014

From 31 Jan-2018 To 03 Feb-2018

From 01 Sep-2020 To 07 Sep-2020
Senior fellowship, Department of Culture, Government of India, New Delhi (1989-91); National Award, Lalit Kala Akademi, New Delhi (1985); Trained in Advanced Printmaking at Croydon College of Design and Technology, British Council Scholarship (1978); Tamil Nadu Ovia Nunkalai Kuzhu award, Chennai (1976 & 1981); Chitra Kala Parishath award, Bangalore (1968); Diploma in Fine Arts from the Madras Government College (1960-1966)
?
Selected Exhibitions
'Chennai Revisited', The Noble Sage, London (2010); The Madras Canvas in Short', Forum Art Gallery, Chennai (2009); 'Remembering Adi', Forum Art Gallery, Chennai (2008); 'The Madras Canvas II', Forum Art Gallery, Chennai (2008); 'Symbols of Exuberance', Sunjin Galleries, Singapore (2007); 'Collector's Ego: Art by South Indian Masters', Gnani Arts, Singapore (2006); `The Madras Metaphor', Artworld Gallery, Chennai (2006); 'K.M. Adimoolam and C. Dakshinamoorthy', Forum Art Gallery, Chennai (2003); 'Paintings and Sculptures: Mr. K.M. Adimoolam and Mr. C. Dakshinamoorthy', Jehangir Art Gallery, Mumbai (2002); Jehangir Art Gallery, Mumbai & Kolkata (1998); 'Seven South Indian Artists', Madras Metafor, Delhi, Mumbai & Chennai (1997); 'Seven South Indian Artists', Madras Metafor, Delhi, Mumbai & Chennai (1993); Silver Jubilee of Birla Academy of Art Culture, Kolkata (1992); The Madras Metaphor', Triennale India, Art Heritage Gallery, New Delhi (1991); 3rd International Asian-European Art Biennale, Turkey (1990); 7th International Small Sculpture Exhibition, Hungary (1987); Triennale, India (1986); 9th International Triennale of coloured graphic prints (1982); Morley Gallery, London (1978); 'National Exhibition', Lalit Kala Akademi, New Delhi (1962-80)
'The apparent roughness of my granite sculptures is inherent in the material itself. But their impact is strong, because of their healthy roots.' - C. Dakshinamoorthy
Dakshinamoorthy's first dealings with art were through his doodles and throws of paint as a child. Later, a youthful enthralment with the local potter grew, his ability to breath life into the forms on his wheel. At the Madras Government College, the artist had the fortune to learn under such important names as A.P. Santhanaraj and S. Dhanapal. From the visiting artist, Santhanaraj, he learnt the powerful use of line. This inspired the development of his sculpture under the tutelage of Dhanapal. From this late Master he understood how one might bestow upon one's art personality and warmth. The artist soon became a keen observer of people through his art, his sculptures often depicting curvaceous women or else female torsos or heads in stone, marble and granite. His chisel quickly became renowned for its ability to instil his figures with bubbly life and character. 'My inspiration comes from the people as groups or as individuals. I get ideas by watching them closely their moods, their postures, their gestures.' Dakshinamoorthy draws his visual vocabulary from the Ayyanar figures in the temples of Tamil Nadu: their accentuated, rounded body parts and features but squat standing shape. The historic dynastic tradition of open air Pallava relief at Mahabalipuram became a constant point of referenceas it did for many artists. One can also see the influence of European masters such as Amedeo Modigliani, Pablo Picasso and Constantin Brancusi, particularly in the artist's preference for simple forms inspired often by indigenous sculpture. Significantly, Dakshinamoorthy is often placed next to K.M. Adimoolam as two artists that had a seminal influence in the early 1960s art movement in Madras. They both were quite different however, Adimoolam diverging into abstract painting and Dakshinamoorthy exploring a contemporary idiom that drew from tribal and folk art forms of the region. The sculptor melts this traditional vocabulary with a discreet appreciation of Cubist perceptions of space and Primitivist immediacy and strength. Although not sculptures, 'Untitled' I & II (2007) area good examples of Dakshinamoorthy's interests. They both show the sensuality of the female form, clothing becoming part of that same shape adding to the flow of line within the pictorial space. Like his sculptures, his works on paper also show a great sympathy and warmth for his subject matter. There is no doubt that Dakshinamoorthy's contribution to South Indian contemporary art will be one day admired as greatly as that of Adimoolam.