Aparajithan Adimoolam
Chennai, India
Born 1972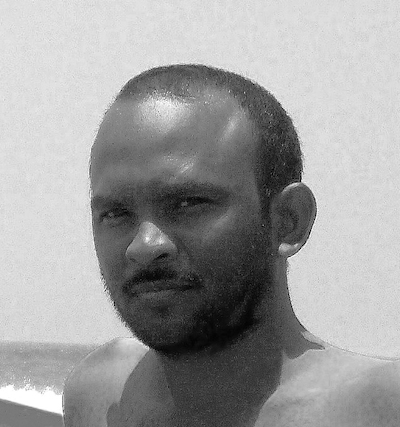 There are no exhibitions for this artist
BFA in Painting from Govt. College of Fine Arts, Chennai (1996); MFA in Painting from Faculty of Fine Arts, M.S.University, Baroda (2001)
Selected Exhibitions

No Balding nor Tangling the Hair, The Faraway Tree Gallery, Chennai; Works
on Paper, The Faraway Tree Gallery, Chennai; Missing Links ll, Gallery Sumukha,Bangalore; Southern Contemporaries, Indusvista Art Gallery, Mumbai; Missing Links, Gallery Sumukha, Chennai; Major Trends in Contemporary Art Lalit Kala Akademi, Chennai; Exhibition of Sculptures, Saffron Art, Mumbai; Take Two The Chennai Chapter, Gallery Sumukha, Chennai; Expressions: The Art Within for Drishti, Coimbatore; Drawn Memories and Painted Shadows, Max Mueller Bhavan, Chennai; Similarities and Dissimilarities, Tao Art Gallery, Mumbai; Parampara, Threshold Art Gallery, Vishakapatnam and Human Form and Art, Lalit Kala Akademi, New Delhi.


Selected Awards
Tamil Nadu State Lalit Kala Akademi award for Painting in 1998
Junior Fellowship from the Culture Department, New Delhi, 1998.

Son of famed artist, K.M. Adimoolam, Aparajithan is quickly carving out his own artistic territory. His works bring to Indian contemporary art, a southern satirical wit and sensibility. It is no surprise that he has shown with M. Natesh, another artist of The Noble Sage, with his own often ironic take on the world. Aparajithan invokes a graphic, almost poster-like quality to his art, his content often having a simplicity and immediacy. He deliberately resists the temptation to be too painterly in works such as 'Across Lines' (2005), concentrating on profundity through simplicity: here a bird flies awkwardly straight downwards to meet with its beak an approaching fish swimming straight upwards. They meet at the waters angular surface, two creatures of air and water, normally predator and prey, normally separated by their different worlds. The simple composition and limited palette make the image impelling even with its small size. In 'He and She' (2007) one can see the remaining influence of the artist's father in his penned depiction of the fallen swordsmen. However this work becomes a statement about gender politics. Man is made into an impotent vaudeville soldier whilst a giant woman's foot, in colour, pins him and his useless shield and sword to the ground. The work has a Monty Python-esque comic element though also appears tragic. The foot is not even needed in its entirety to keep the soldier down: the toes curl inwards showing a lack of real strength.