Alphonso Doss
Chennai, India
Born 1939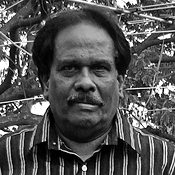 View Video Interview
There are no exhibitions for this artist
Graduated from Madras Government College of Arts & Crafts in 1962; Government of India National Scholarship acquired (1963-65); Recipient of Cultural Doctorate in Art Education from World University, Arizona, USA; Appointed Principal of Madras Government College from 1992 to 1997
Selected Solo & Group Exhibitions:
'Power Ganesha', The Gallery of Gnani Arts & Gnani Arts Space, Singapore, 2010; 'A Cosmic Trance: The Nataraja in the Art of Alphonso Doss', Solo Exhibition, The Gallery of Gnani Arts, Singapore (2009); Lakshana Art Gallery, Bangalore & DBS Gallery, Chennai (2001); Vinyasa Art Gallery, Chennai (2000); Brimhall, Brigham Young University, USA (1998); Saga Art Gallery, Chennai (1996); Indian Artists Group Exhibition, National Museum, Singapore (1994); Kasturi Sreenivasan Gallery, Coimbatore & Third Biennial of Visual Arts, Seychelles (1992); KCP Art Complex, Bangalore (1991); Jehangir Art Gallery, Bombay (1990); Rafiq Art Gallery, Madurai (1989); BF Larsen Gallery BYU & Ricks College, USA (1986); Treasure Room Gallery, New York, USA (1985); Krithika Art Gallery, Bangalore (1985); Doshisha University, Kyoto, Japan (1983); Contemporary Art Gallery, Ahmedabad (1983); Rosa Speer laren, Holland (1982); Sarala Art Centre, Chennai (1981); Commonwealth Exhibition, London (1980)
"I relate Christ to my very personal life. Anyone who sees my paintings will understand them and the sentiments will vibrate from them. I leave these patches of the white canvas without touching them up with white paint so that the canvas can speak, unhindered and unmasked, for itself. I have always thought of Christ as a person of Eastern origin. He was a Jew, an Asian. I have invariably conceived Jesus as a bronze figure that comes naturally to me and then I add in the other colours - maroon, orange, deep orange, yellow, even black - to suit my compositions. Christ has stood out as a suffering symbol of pain for centuries. I feel an artist must be totally aware of the goings on around him, if he decides to communicate through his work. I love communication on one hand, but on the other must retreat into my own world to communicate. Every time I actually approach a canvas, I am face to face with a paradox. I must paint at one go."
- Alphonso Doss
Professor Alphonso Doss is referred to by many of his artist friends as 'The Reverend Doss'. This is not so much because of his own religious nature (he is Christian in upbringing) but because of his general spirituality and great interest in world religions, their overlapping themes and motifs. This fascination finds its way into his art not only in his choice of content but also in his very individual style. Doss started as a realistic painter dealing in oil portraiture amongst other subjects but by the late 1960s broke away to find his own pathway. Today his canvases show vibrant images of Shiva Nataraja (the classical Hindu depiction of the Lord of the Dance), the Buddha seated in quiet meditative contemplation, Christ with Mary Magdalene or healing the sick. Doss is not an artist depicting an obscure story of his deities or divine characters to impress us or simply for the sake of inventiveness. He has indeed already found his subject matter in the temples, palaces, museums, galleries and cathedrals all around the world. He sees his art as an extension and personal re-evaluation of a long history of religious painting. His influences are Grunewald, Rubens, Rembrandt and Michelangelo as much as the anonymous artists of the ancient wall paintings of the Ellora caves and the temple stone carvings of Tamil Nadu. With his painterly replication, Doss continues a tradition established hundreds if not thousands of years ago across the globe.The artist brings a unique stylistic handling to the classical poses and stories. His canvases are loosely painted: oil paint is applied wet so the colour is as transparent as possible. Large areas of canvas are often left untouched whilst outlines of subject matter are done quickly, often in one colour, and rarely corrected so the majority of the finished product is arrived at rapidly. Doss explains that this effect was arrived at by close inspection of gems and precious stones and the manner in which light is refracted through them. His palette is restricted to olive greens, browns, yellow, sky blue and fiery red. These have special meanings: yellow is symbolic of intelligence, red denotes strength and blue means space and calm. The final painterly effect is described poetically as the cosmic energy that umbrellas us and that houses all religions beneath it. 'Message' (2007) is very much a classic Doss image. The picture plane is close up against a girl's profile as she lifts her hand for a bird to perch and speak to her. The image could easily be an Indian annunciation of sorts, or else a folk story from the Tamil villages, or else, more simply, a fleeting, magical image of a message of love being delivered. One is rightly reminded of the Ramayana where Hanuman drops a ring in captive Sita's lap to tell her that Rama is on his way. Dosss works in this way span religions and reignite the beauty of old subjects through his individual and powerful technique.