A.S. Sajith
Trivandrum, India
Born 1965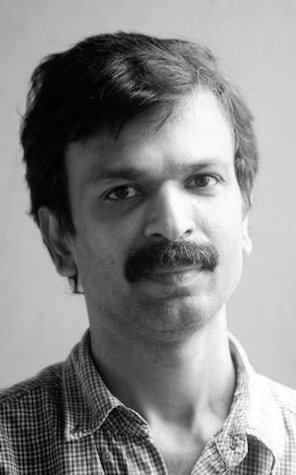 From 11 Feb-2009 To 08 Mar-2009
Attained an MFA from Central University, Hyderabad (2001); BFA from College of Fine Arts, Thiruvananthapuram (1990)
Selected Solo Exhibitions
Trivia Contemporary,Thiruvananthapuram, 2009; Kari, Vyloppilly Samskriti Bhavan, Thiruvananthapuram, 2007
Selected Group Exhibitions
Annual Show, Trivia Contemporary, Thiruvananthapuram, 2008; Representations III, Triva Contemporary, Thiruvananthapuram, 2008; Garden of Life, Apparao Galleries, Chennai, 2008; Chronicles of the Unspoken, Matters of Art, New Delhi, 2007; Samanvar Gallery, Jaipur, 2006, State Show, Lalit Kala Akademi, Kerala, 2005; Norka, New Delhi, 2005; Emerging Directions, Apparao Galleries, New Delhi, Chennai, 2004; National Painters Camp, Lalit Kala Akademi, Kozhikode, 2004; Nandan Gallery, Santhiniketan, Calcutta, 2003; Keraliyam Kerala Kalamandalam, Cheruthuruthy, 1998
Collections
Lalit Kala Akademi, India
Lalit Kala Akademi, Kerala
Selected Bibliography and other Media
'Icons and Images, Collection on New Media Writings, Lalit Kala Akademi, Kerala
In his reduction of his palette to black and white, and his choice of a simplistic medium and schematic style devoid of tonal gradation, Sajith moves us to a binary world where our psyches are displayed stark and cold before us. To the artist, modern technology has had an undeniable effect on our communication. It has made each conversation as barren as the last, each human relationship born or furthered in cyberspace as fruitless as the next. It is not a nightmare but, in contrast, our reality, our parallel technological universe with which we interact every day. Significantly, Sajith is not so much criticising this aspect of modern life as simply enunciating imaginatively the world to which we donate each day. Sajith describes it as his reaction to modern communicative systems and living methods his words give away a like robotic sentimentality.
The artist often discusses the World Wide Web in relation to his works: the proposed enabling of communication but the increasing de-sensitivisation and corruption of our human exchange. Naturally, it prompts us to think of the rise in internet social networking and, more fascinatingly, the surge in living second lives in 3D virtual worlds where new virtual avatars, body parts, partners, abilities and (im)material goods such as cars and clothes (and even art) can be bought with a virtual currency at the press of a button. To Sajith, technology has changed the very nature of our Self for ever- the Web we created to help us has made spiders of us all. With all our new arms we are able to multi-task and multi-talk but yet, in doing so, achieve little except ingrain ourselves even further in a very desolate world.
'Untitled' (2007) is a good example of the universe we have inhabited- a cityscape of overbearing proportions where every building looks the same factory/prison/office/call centre, fully equipped yet inactive and empty. Humans appear like ants, faceless and unimpressionable, terminable at a whim as any decision of such genocide is instantly reversible. Sajith's landscapes and cityscapes are nearly always seen from a raised perspective. Here, the human ants are overshadowed by the looming buildings and, in turn, these are towered over by our standpoint. Where God once stood, we now stand in His place; this vision is entirely our creation. One notices the lines that swirl throughout the cityscape. These recur in many of the other works in the exhibition such as the 'Scenes from the Cognitive Brain' series. Most resembling barbed wire or telecommunication lines, they move throughout the work connecting the humans with their surroundings at the same time as limiting and binding them to a perimeter.
Under closer inspection, one notices the lines are made up of marks that echo that which makes up the humans - tiny jittery lines like the beginnings of an ancient text. On the one hand, this introduces the idea that we have become our own detached communication (i.e. we are now detached even from our own Self); on the other hand these markings appear to link with the hieroglyphs in 'Lovers speaking to each other through sentimental H2O' (2007). Here these strange marks fatalistically imply an inevitability to how we now live in this modern technological world. It is with a deadpan tone that Sajith's title describes the pillow-talk of lovers in terms of a liquid finding emotion. He to some extent praises this world, remarking at its prophesised, mythical nature, a natural evolution of man, however simultaneously is ruthless about its by-products: human alienation and isolation.